Metal is the Ultimate Roofing Material
We offer only the highest quality metal roof available in the market today! It is maintenance free and comes with 40 and 45-year warranties.
Metal roofing not only provides exceptional durability and aesthetics, but increased energy efficiency over traditional roofing products, like shingles.

Residential Metal Roofing – While your neighbors may re-roof their home many times, a metal roof will likely be the last roof you'll ever need! Resistant to cracking, shrinking and erosion, and can also withstand extreme weather including heavy snow loads, hail and wildfires.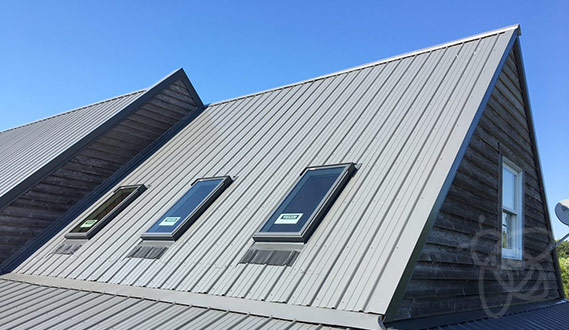 Commercial Metal Roofing is cost-effective, yet looks professional and stylish. At BumbleBee Exteriors, we have the style and the color to suit your commercial building.
Standard Multi-Rib Panels – This is our most popular metal panel. Our Classic Rib® is available in 29, and 26 gauge.
Standing Seam Panels – Beautiful, long-lasting and classic. No screws or punctures are visible. It can give a home that "Key West" tropical charm. Seamed metal is perfect for replicating the old tin roofs on a turn-of-the-century home – on a rounded spire or a gable. The look is completely modern or perfectly historic. Seamed metal gives a commercial building a very professional appearance, and our products feature a color selection that add class to any business exterior. This may be one of the most adaptable roofs available! It can be installed atop many existing roofs.
The Benefits of Metal Roofing
Contact Us and Get It Done!
When you choose Bumble Bee Construction, you know you're getting highly qualified professionals who have the expertise and experience to make sure your project is done properly.