One of the Fastest Ways to Boost Curb Appeal
Regardless of which style or color you choose, new siding will spice up your home and grab the attention of those living in your area.
There are many different options to consider when choosing your siding, soffit & trim materials.
We like to break them down into a "good, better, best" scenario. We've listed below a small sampling of choices so that you can explore at your leisure. It is important to remember there are many more choices available and that we will install anyone's product…so the possibilities for your vision are endless!
Try to imagine the difference it would make if you upgraded the vertical siding to your home. With all the colors, textures, and materials you can choose from, you'll have a lot to think about.
Below are some factors to take into consideration.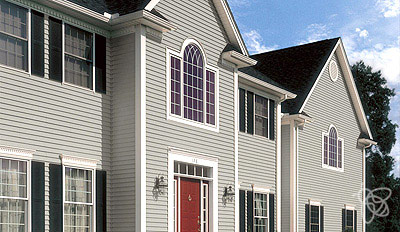 Energy Efficiency Savings
Extreme Weather Protection
Home Comfort Improvements
Vinyl siding (as well as soffits and trims) is very durable and basically maintenance free. Vinyl siding and accessories typically carry a lifetime warranty from the manufacturer and maintain their color better due to the fact that they are not painted products. If you are looking to increase the R-value of your home, be sure to ask about insulated backer board or insulated siding panels.
Benefits of Vinyl Siding:
Vinyl is practically maintenance free. No painting, no sealing.
Vinyl has 10 times the life expectancy of traditional wood siding.
No Bugs! It's impervious to termites and other wood boring insects and pests.
The many styles, patterns and color options allow you to create the perfect look for your home.
You can get almost any color imaginable.
Vinyl is more affordable than fiber cement, brick, stucco, aluminum and even wood.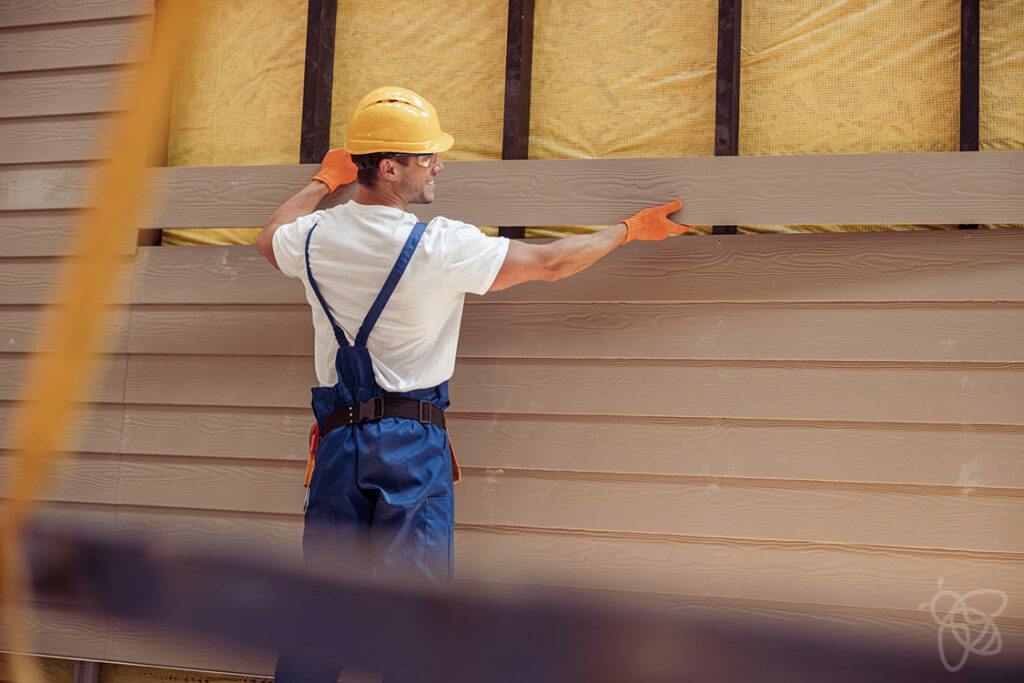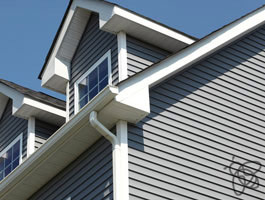 Mainstreet™ High-performance vinyl siding from Certainteed is very popular siding and our "go-to" product for all our first tier/basic install. Mainstreet has a natural woodgrain texture with exceptional value, and design versatility. 7 styles. 25 colors. MainStreet's attractive, feature-rich siding is the ideal choice for your home.

LEARN MORE >>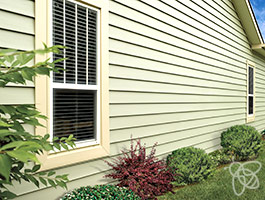 Monogram® vinyl siding is a step above Mainstreet. It is thicker and also has authentic cedar texture with the widest spectrum of colors in the vinyl siding industry. 3 styles. 39 colors. Unlimited possibilities.
Whether it is a Victorian reproduction, a New England saltbox or a modern beach house get-away, Certainteed's Monogram Vinyl Siding offers the rich look of natural cedar without the expense and heavy maintenance. Inspired by nature, these colors are designed to harmonize home and environment.

LEARN MORE >>
Fiber cement products can increase the beauty, value, safety and durability of your home. The cement is combined with sand, water and cellulose wood fibers to create a material particularly suited to protect home exteriors. They are resistant to flame, impact, moisture, rotting, hail damage, and termites. Innovative products that are designed to last a lifetime with low maintenance.
Fiber Cement siding is one of the best investments you can make in your home. It offers great protection, durability, and the lifetime value is unbeatable. On top of all that, it's low maintenance.

At BumbleBee Exteriors, we feature HardiePlank® Lap Siding is a fantastic product from James Hardie, the leader in the fiber cement industry. James Hardie and Hardie Plank Siding is a great investment!

This is why:
Durability:

 James Hardie siding products are engineered by climate area to resist the harshest weather conditions each unique part of the world has to offer. This helps the fiber cement withstand UV levels, wind, rain, pests and heat.

Extensive Product Warranty:

 HardiePlank, HardiePanel, HardieSoffit, and HardieShake come with a 30-year nonprorated, transferable, limited warranty. That's how confident James Hardie is in their product. Their ColorPlus Technology process optimizes paint adhesion and reveals a consistent finish that requires little maintenance.

Low Maintenance:

 Hardie has all the beauty of traditional wood siding with none of the pain points. While traditional wood siding would need to be painted every 3 to 7 years, HardiePlank with ColorPlus Technology comes with a 15 year, limited warranty just on the paint! No need to scrape, or repaint. HardiePlank wont dent or warp like vinyl siding does.

Style:

 Whatever you hope to achieve with your design aesthetic, Hardie Plank offers a style and color to meet your needs. There's no better way to achieve a high end look and feel for the exterior of your home.



Other Things to Remember When Considering Re-Siding Your Home:
Soffits & Trim – Your overhangs (whether covered by gutters or not) as well as your peaks are referred to as your homes soffits & rakes. Trim constitutes the wrapping of any wood around windows, doors, etc. Although you usually update these areas in conjunction with siding your home…that is not always the case. Your home may be brick or stucco and still have wood soffits & trim. By covering that wood with vinyl or aluminum soffit material you can make your homes exterior maintenance free. Don't forget about your porch ceilings, as they can be transformed as well.
Housewrap – Regardless of which brand you choose, a properly installed Housewrap system (including proper flashing and sealing) will improve your homes thermal performance. It also acts as a secondary barrier to help prevent moisture from penetrating into your homes wall cavity by deflecting it and channeling it down the surface of the exterior wall, thus reducing the likelihood of building rot & wood degradation. Increase your comfort & peace of mind, while saving energy!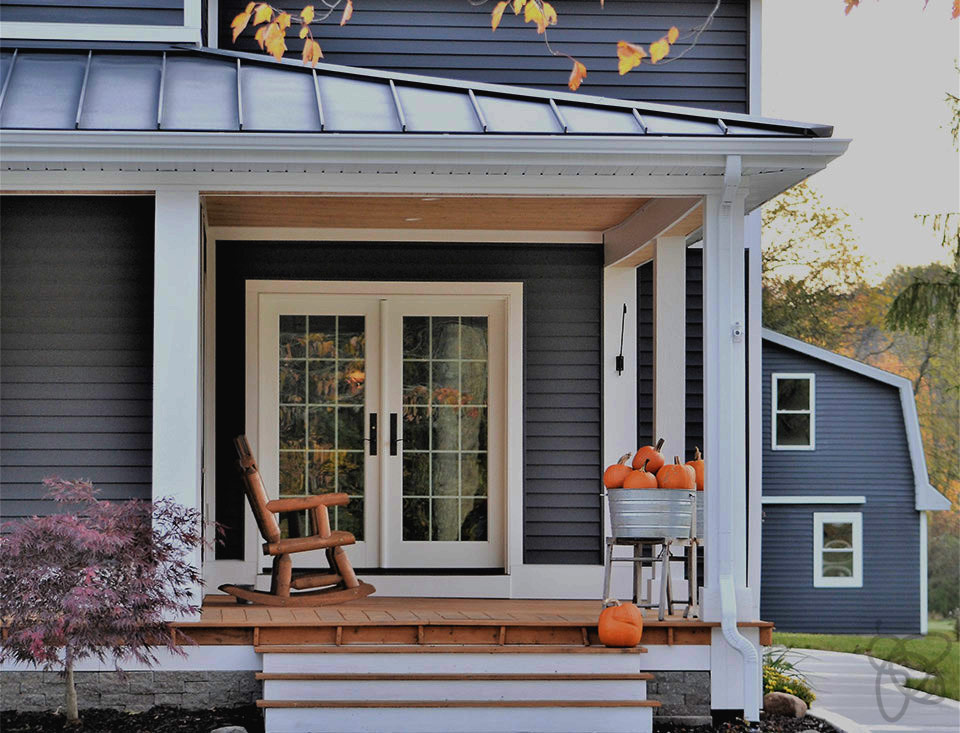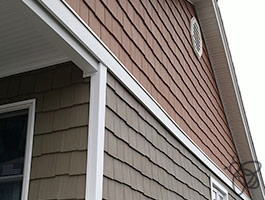 The traditional look of alternating wide and narrow cedar boards offering early American charm and low maintenance.
With Board & Batten, CertainTeed has recreated a siding favored by early settlers to protect and beautify homes and outbuildings. Alternating wide and narrow vertical panels combine in a simple, yet beautiful, design well suited to distinctive architectural styles.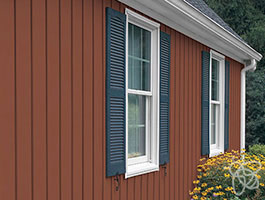 Cedar Impressions® by Certainteed is designed for whole house applications or accents. Cedar Impression® siding has the most authentic woods look in the industry with better-than-woods performance. It offers natural looking cedar shingle siding without the expense and heavy maintenance of wood. Cedar Impressions offers eight styles and a designer color palette (38 colors), including rich deep hues. Superior grain texture molded from real cedar shingles that looks like freshly sawn wood using authentic patterns and textures.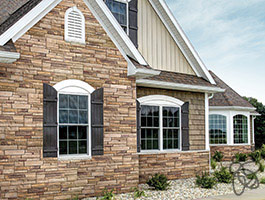 Boral Versetta Stone® is a mortarless, cement-based manufactured stone veneer with a unique, panelized design that is installed with mechanical fasteners, allowing carpenters and contractors to recreate the beauty and craftsmanship of authentic stone masonry using screws or nails.
Versetta Stone® panelized stone veneer is a non-structural masonry cladding which is installed with mechanical fasteners.
Contact Us and Get It Done!
When you choose Bumble Bee Construction, you know you're getting highly qualified professionals who have the expertise and experience to make sure your project is done properly.